Posted by Bianca Howell on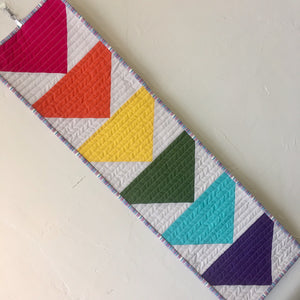 New to the Row by Row Experience is Row by Row Junior! Designed specifically for quilters ages 6-14, Row by Row Junior features 5 different patterns which also go with this year's theme, On the Go. The patterns are the same for each shop and each child can choose which pattern they would like to take home. To receive the free pattern, the child has to be present in the quilt shop. Only children may receive the free pattern, however, grown-ups are welcome to buy the kit, too. Owl & Drum has kits made up in the "Arrows" pattern, as...
Posted by Bianca Howell on
Today is the first day of the Row by Row Experience. This worldwide quilt shop hop started in 2011 with only 20 shops in the New York area. Since then, it has grown immensely to include thousands of stores across the US, Canada and Europe - and Owl & Drum is proud to one of the shops for the second year! Each year there is a theme and this year's theme is On the Go. Our panel, "Rainbow Tracks," is an abstract take on vehicle tire tracks. We wanted our panel to be pieced, contain solids and, of course, be...